Meet Dr. Nancy Swenson
Becoming a Chiropractor
"I was inspired to become a chiropractor because I wanted to help others noninvasively with their healthcare needs." Dr. Nancy researched numerous fields, worked at clinics, met, interviewed and interned with a variety of healthcare providers. "I was amazed by the results, specificity, and approach that the Doctors of Chiropractic took as well as the healing touch they offered my mother personally."
Education and Experience
Dr. Nancy earned a Bachelor of Science in Anatomy from the University of Minnesota Duluth and a Doctor of Chiropractic from Parker College of Chiropractic. She graduated in 1995. She also is certified in the Webster Technique through the International Chiropractic Pediatric Association (ICPA). Additionally, she received certification in Chiropractic Wellness through the International Council on Wellness Science.
Moreover, Dr. Nancy attended an extensive array of seminars, including ones on whiplash and spinal trauma, nutrition, gait analysis, physiotherapy, sports chiropractic and more.
Providing Care for All Ages
From helping newborns to 90-year-olds and all ages in between, Dr. Nancy enjoys caring for patients of all ages. She is educated in nine different techniques to help a diverse array of patients, including athletes of all levels, those with complex cases, and individuals who want to optimize their health through wellness visits. Dr. Nancy is skilled in pre and postnatal care, physical therapy, nutrition guidance, soft tissue work and more. She provides personalized care to get optimal results for her patients.
Helping Others Live Healthy Lives
For Dr. Nancy, the most fulfilling aspect of being a chiropractor is reducing or eliminating the interference that sometimes occurs in God's great design of the body. "I enjoy seeing the change in the lives of those who had lost hope and had accepted their illness or injury." She finds it gratifying to see these patients live healthier lives and enjoy what matters most. "I love getting results and helping others live more optimally."

On a Personal Note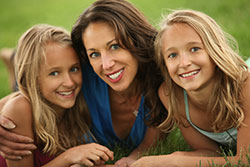 When she's not at the practice, Dr. Nancy enjoys spending time with her family, especially her twin teen daughters who were born on her birthday. She received adjustments throughout her pregnancy and had a wonderful natural birth. Dr. Nancy adjusted her daughters within a minute of their birth. She has enjoyed watching them live a healthy lifestyle. In her spare time, Dr. Nancy also likes being out in nature, running, boating, kayaking, sailing, swimming, downhill, water, and cross-country skiing, hiking, biking and attending church.
Discover how great you can feel with chiropractic care. Book an appointment with Dr. Nancy today!
---
Meet Dr. Nancy Swenson | Live Well Chiropractic | (218) 454-5483